About US
Dr. Parker is an award winning dentist and member of the American Dental Association.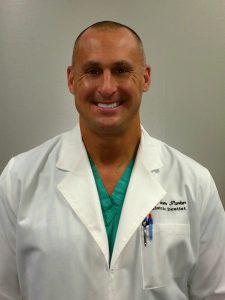 Dr. Jason Parker
Dr. Jason Parker of New Orleans, La., was named this year's recipient of the New Dentist Award during the 128th Annual Session of the Louisiana Dental Association (LDA) on April 12, 2008, at the Morial Convention Center in New Orleans.
The New Dentist Award is given to an individual member who has been in practice for less than 10 years, and who has made an outstanding contribution of his time and talents for the betterment of mankind. Such contributions include civic involvement, public service and unselfish devotion to the dental profession.
Dr. Parker received his bachelor's degree in biology and a business administration minor from Centenary College of Louisiana in Shreveport. After completing his pediatric dental residency from Louisiana State University School of Dentistry, Parker began private practice in 2001 with offices in Metairie and Slidell.
Learn More About Dr. Parker
Parker has been a member of the LDA, the American Dental Association (ADA) and the New Orleans Dental Association (NODA) for seven years.
He has served LDA and NODA in many capacities, including serving as a delegate at the House of Delegates Annual Legislative Session, on the NODA Conference Committee, on the LDA Council on Communications, and on the LDA Council on Governmental Affairs. He was appointed to the NODA Board of Governors and he is the second vice president of NODA. Parker was bestowed the honor of "2004 New Dentist Award of Excellence" by NODA.
From 2000-2004 Parker personally funded and also secured Rotary International Grants for an abroad dental project between the Rotary Club of the West Bank of New Orleans and the Rotary Club of Ocho Rios, Jamaica that was affectionately named "Smiles from N.O. to Ocho." This project enabled Parker and his dental team to provide comprehensive dental care to thousands of children in Jamaica that otherwise may not have been able to receive it.
Parker has worked tirelessly to rebuild National Children's Dental Health Month (NCDHM) in New Orleans after Hurricane Katrina.
While serving as NODA's Chairman of Children's Dental Health Month, he volunteered, set up, or helped raise money for events city wide at Children's Hospital, the Louisiana Children's Museum, Audubon Zoo, ABC Wide World of Sports three on three basketball regional championship, and Lakeside Mall, to name a few. He organized and promoted NODA's sponsorship of the popular children's band Imagination Movers' CD release party who have since moved on to nation wide fame through the Walt Disney Corporation.
Parker helped facilitate proclamations from the state of Louisiana governor's office and from the mayors of New Orleans and Slidell in recognition of NCDHM. Over the years, he has spread the word about the importance of children's dentistry on local and nationwide televi¬sion and radio stations through live satellite media tours and numerous other media events. Parker was instrumental in making the ADA's centerpiece "Give Kids A Smile" a success in New Orleans.
He worked with Operation Blessing Medical Volunteer Corps to set up a clinic for underprivileged children and delivered comprehen¬sive dental care to more than 100 children in the most dev¬astated and underserved areas of east New Orleans for NODA' s "Give Kids A Smile " project post-Katrina. He has recently been asked to be a guest speaker in June at the ADA's Annual "Give Kids A Smile" Symposium in Chicago.
Parker assisted and played a major role in the American Dental Association's documentary titled "Hurricane Katrina and Dentistry". This film portrayed the disaster, effects and impact of Hurricane Katrina on the dental profession in New Orleans and the Gulf Coast region. He was invited to San Francisco, Ca. to speak at the ADA Annual Session alongside Barbara Walters to report on the status of the dental profession two years post Katrina.
Parker has been or currently is on the medical staff at East Jefferson Hospital, Doctor's Hospital, Tulane Hospital for Children, Northshore Regional Medical Center, West Jefferson Medical Center and Children's Regional Hospital.
Parker's professional memberships also include the Southwestern Academy of Pediatric Dentistry, the Louisiana Pediatric Dental Association, the Lakeview Civic Improvement Association, English Turn Property Owners Association and the American Society of Dentistry for Children.
As a community leader, Parker has also served as a donor, sponsor or volunteer at Zoo To Do, Zoo to Do 4 Kids, Lark in the Park, Boo at the Zoo, Children's Hospital Radiothon/Telethon, SPCA's Howling Success Gala and House of Blues Young Musician's Foundation. He personally raised nearly $7,000 for neonatal research for the 2007 March of Dimes Gala. He was inducted as an honoree for his contribution and was appointed to the board of directors for the March of Dimes. Parker is currently planning a possible joint effort with the New Orleans Saints and the New Orleans Hornets for separate dental events to provide oral hygiene check-ups, dental care and a fun filled afternoon at the respective games for underserved children in the New Orleans area hopefully somewhere in the near future.
He has given numerous lectures on pediatric sports dentistry and pediatric oral pathology at continuing education conferences around the country.
Most recently, Parker was selected as one of 25 pediatric dentists from around the country to participate in the American Academy of Pediatric Dentistry Foundation's Healthy Smiles, Healthy Children Leadership Institute II at the prestigious Kellogg School of Management.
In his spare time Parker enjoys live music venues, the great restaurants of NOLA, training for triathlons, snow skiing, diving and traveling.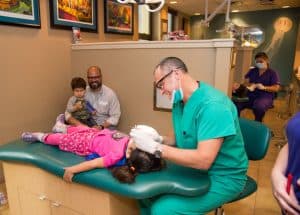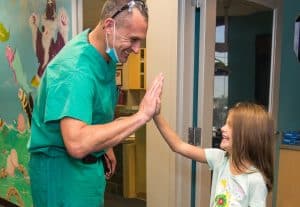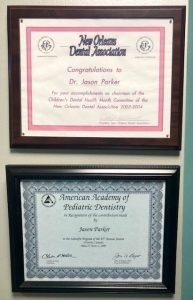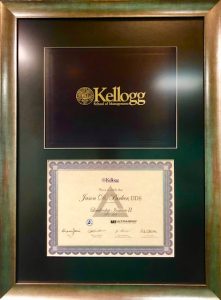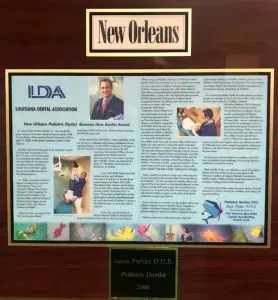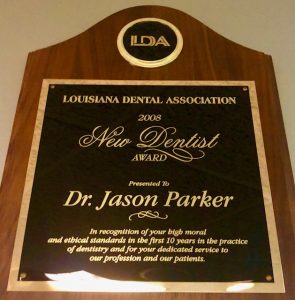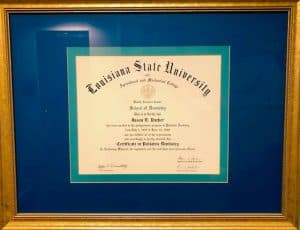 Meet Our Team
Our team has extensive experience in pediatric dentistry, dental emergencies, sedations, and the handling of special needs patients.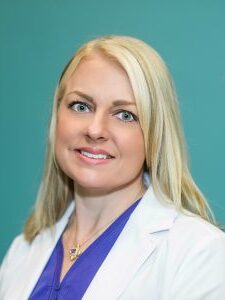 Tina
Registered Dental Hygienist
I am a Registered Dental Hygienist who is passionate about helping children have good positive dental experiences and healthy smiles. I love working with children and enjoy forming relationships with my patients based on trust, kindness, and compassion.
Learn More
I have been working with Dr. Parker for 18 years. My goal is to empower my patients to take great pride in their smiles and oral health. I obtained my Bachelors of Science degree in General Studies at Louisiana State University in Baton Rouge. I received my Associates degree in Dental Hygiene from Louisiana State University School of Dentistry in New Orleans.
In my spare time, I enjoy spending time with my husband Frank, and our daughter Sophia. I enjoy decorating, shopping, gardening, and working out.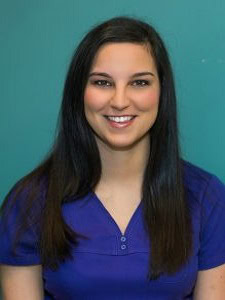 Brittany
Dental Assistant (EDDA)
I enjoy working in pediatrics and have been an employee of Dr. Parker since 2013. Working with children has been an enjoyable experience and each child leaves a different impression on my life.
Learn More
I received my dental assisting certification from the Louisiana Dental Assisting School in 2012 and then decided to further my knowledge at LSU, receiving my EDDA certification.
Outside of the office I spend most of my free time working out, trying new restaurants and simply having fun with my husband, daughter and friends.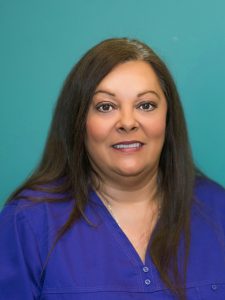 Nicki
Administration
I have been with Dr. Parker for 8 years and have over 35 years of dental experience in all!
I am always willing to help out our patients and their parents when it comes time for continuing their dental needs!
Learn More
When I am not working, my husband and I enjoy fishing and different activities introducing children to fishing through the Coastal Conservation Association (CCA).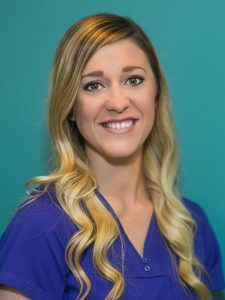 Alyssa
Outpatient Coordinator
I enjoy working with children and I'm passionate about being a patient advocate. Calming fears, answering questions, and helping to make treatment possible for children is something I find rewarding in the position I am in.
Learn More
I have had the pleasure of being part of Dr. Parker's team since 2012!
Another passion of mine is my family! I cannot spend enough time with my husband, daughter and son. Whether traveling or playing around the house they make my heart smile!